Last Saturday the local heavy equipment contractor was working at our home tackling many different projects around the place, all of which I will post about over the next few days. But this one brought a smile to my face.
Since the contractor was already on site with his excavator to work the main project, when that was completed we hired him by the hour to deal with several smaller issues on the property. It made sense to do it this way since the equipment was already here and we didn't wish to pay transportation charges twice to get the equipment here a second time.
There were half a dozen large and medium stumps on the property left over from clearing operations conducted by the prior owner, all of them located on the East facing slope of our property. The image above shows the degree of slope we're talking about, though the slope was greatest in this image and is a bit less by maybe a few degrees below where he was working. If you look under the excavator arm you can see the general slope of this area.
This one was the biggest of all the stumps he dug out that afternoon and tested his little machine to the max. But after 15 minutes of determined work digging out the roots he finally broke the beast loose.
The plan had been to use the excavator to carry the stumps down the slope and dump them into the woods. But boys being boys I hollered to the operator to see if he could bowl a strike with the stump. Damn if he didn't grab the stump with the excavator, then swing it around and chuck the stump a few feet down slope to give it some momentum. Clearly my idea was not new to him and he had some experience with old school stump bowling.
Alas, it did not make it all the way down the slope and he had to chase after it and push it the final 15 feet. Several other stumps did make it all the way down and one stump I wound up rolling the last few feet. Considering the stumps were not even close to being round he still bowled a respectable 196.  :)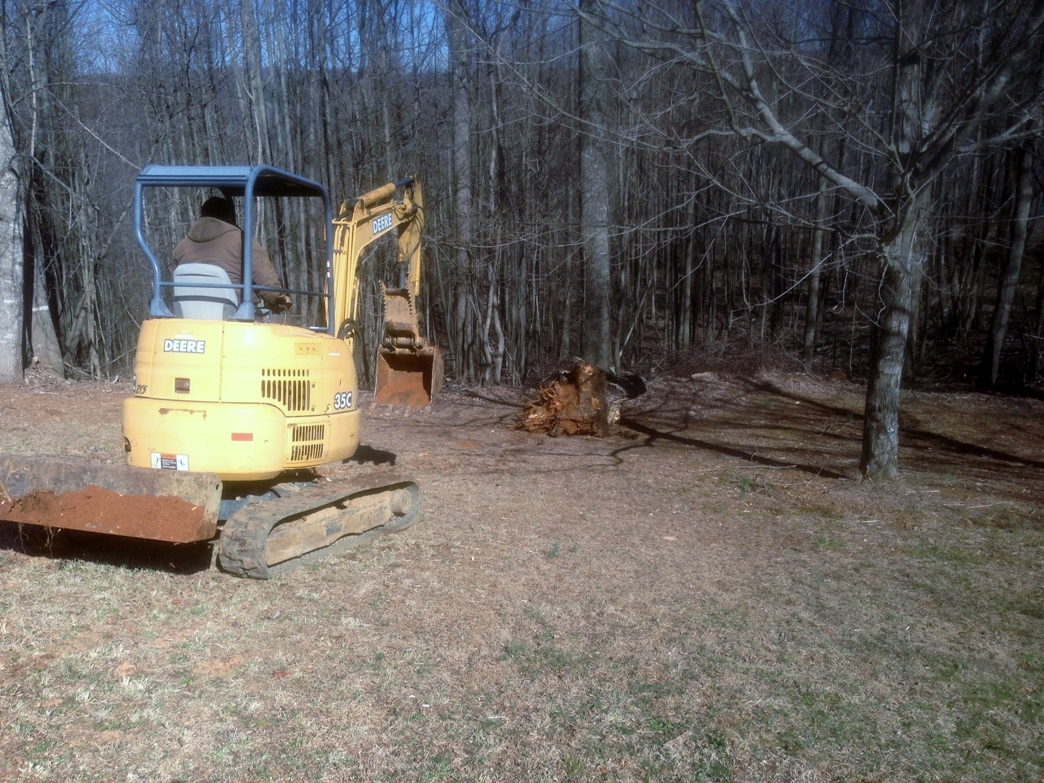 The always difficult 7 - 10 split. Headed down the slope to clean up the mess.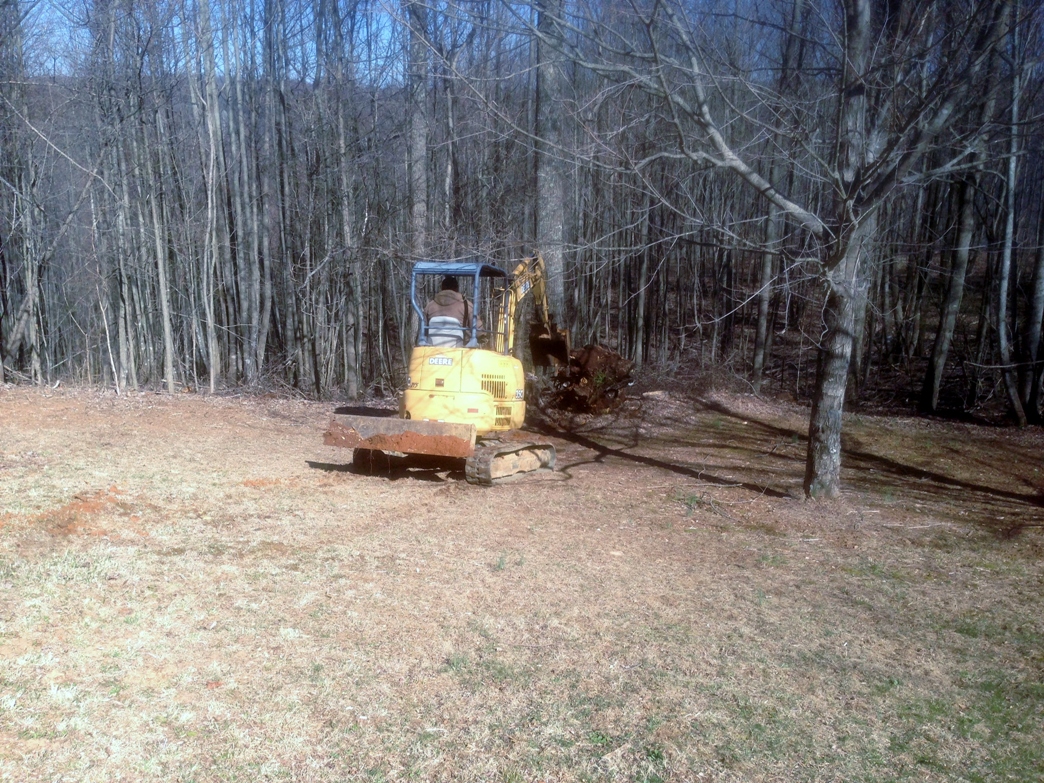 The first 7 - 10 clean up push wasn't quite enough to pick up the spare.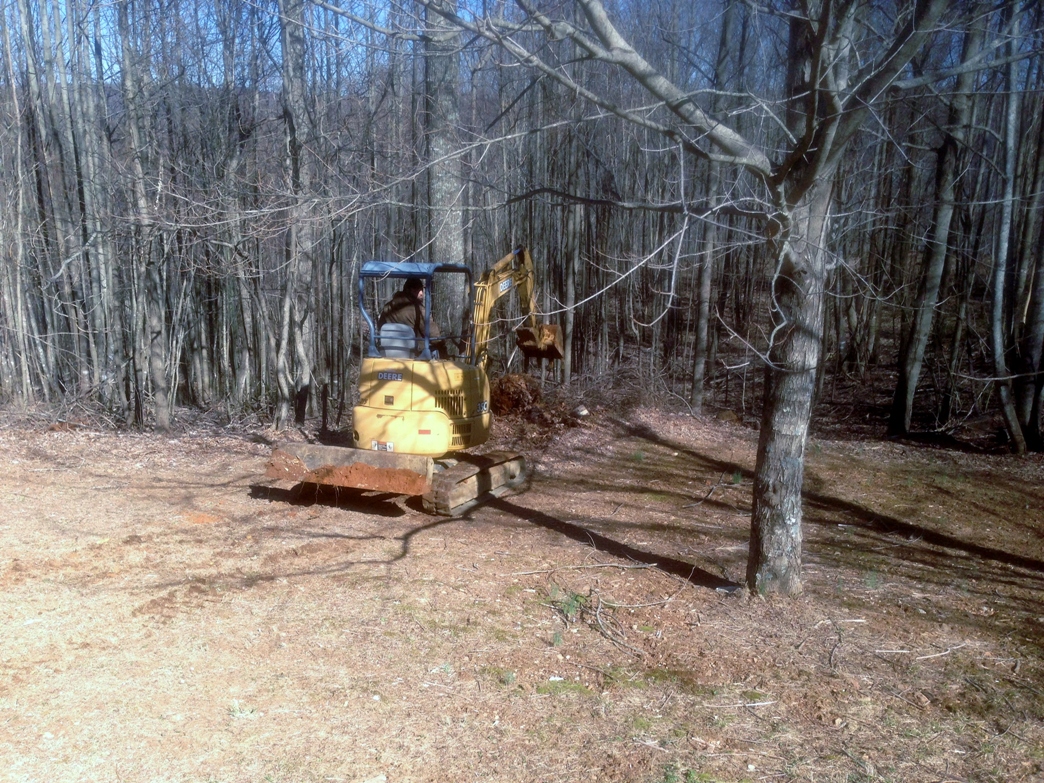 A second love tap with the bucket cleaned up the lane, but he still only got a score of nine on that frame.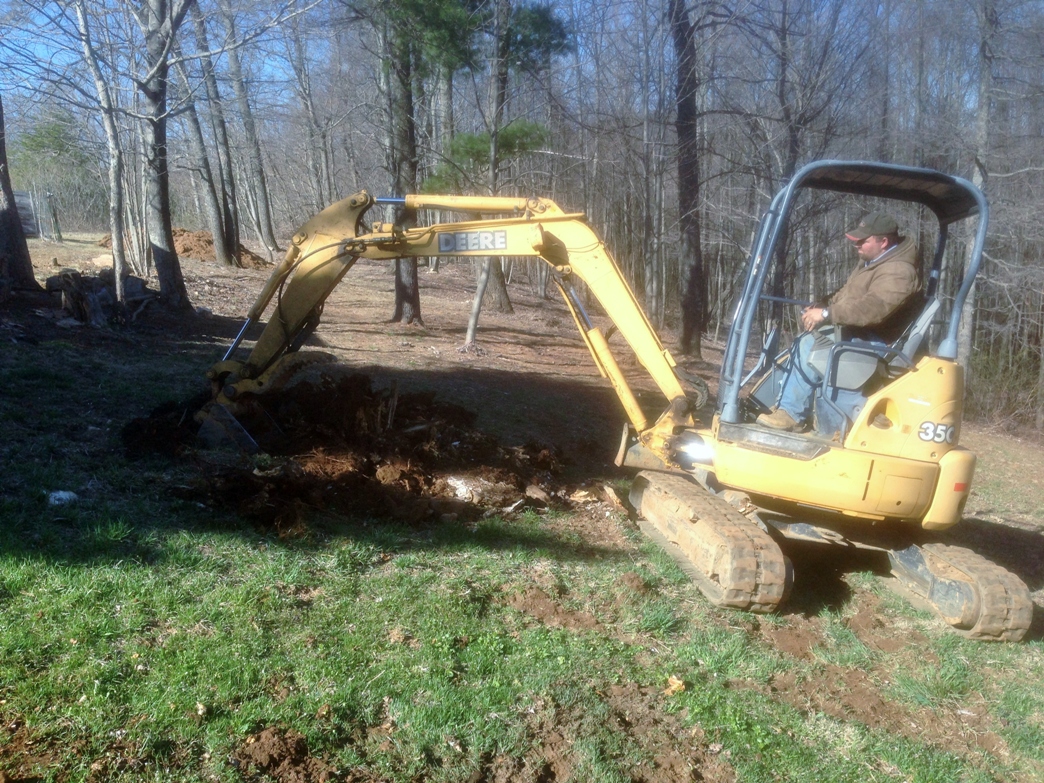 Here is the contractor pulling out the stump in frame three. He got a strike, and in fact got three strikes in a row. The man had a soft touch when it came to operating heavy equipment and well worth the money we paid him.