Gone are the days of bemoaning the fact that my favorite local jeweler no longer has my Movado watch battery because they have gone exclusively Rolex. Never again will I need to sacrifice a morning in the waiting room of the Mercedes dealership sipping freshly ground flavored coffee and eating two hour old pastries while I impatiently wait for my 30,000 mile scheduled maintenance covered by the warranty. Sigh!
This is all sarcasm of course because I will take weeding my garden and cooing at our elusive bobcat from my front porch rocker any day over my consumer driven previous life. But I still have to purchase items and, rising inflation aside, there are big cracks in the consumer foundation appearing everywhere. Buckle up folks; it's time to put the nose to the grindstone.
As a trained proficient consumer I expect to find what I need somewhere. Wait, where did all those stores go? The big box store chain competition seems to be mostly shuttered at the local strip mall and on many Main Streets. From what I have recently observed the only places with thriving commerce, aka the old economy, are certain "A List" cities, locations that benefit from government operations and the larger college towns, also known as places where most people still have their jobs. For the rest of us plebs, it is not looking so rosy.
While most items we want or need are still obtainable for now, the acquisition process is becoming much more cumbersome to navigate and in some cases downright inconvenient. If this is frustrating for me now I can only imagine the sheer horror when we get to the part with outright shortages, rationing and rage once this all begins to really play out.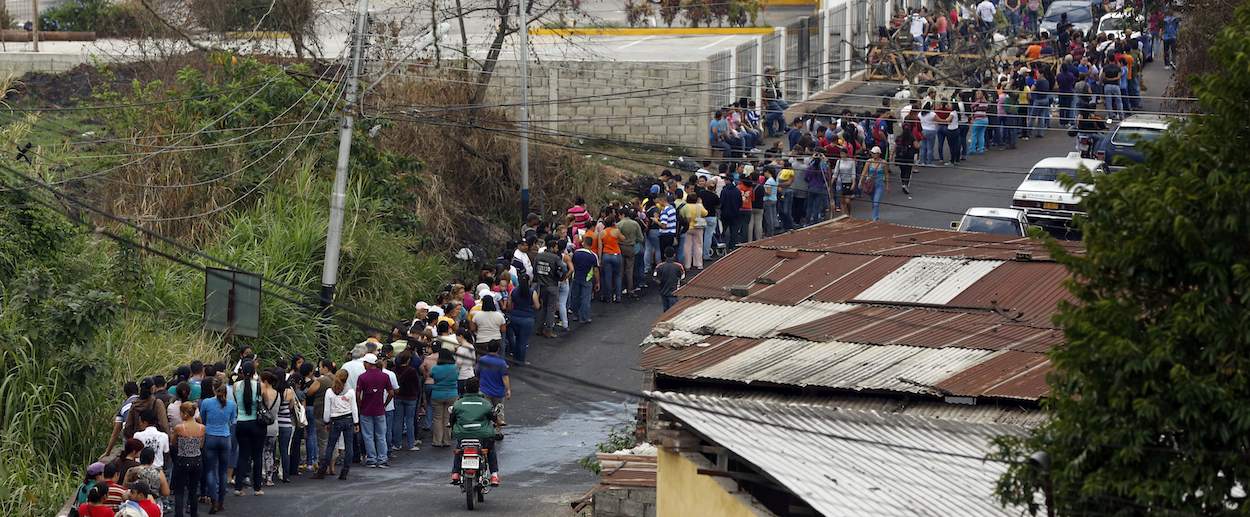 Regular people in Venezuela after shortages began
We are discovering that stores are stocking less and less while depending more than ever on "just in time" deliveries. Sometimes those deliveries are not just in time and the item I want is not available for a week, a month, or even more. I'm talking about common brand names for spaghetti sauces and things like horseradish.
Recently we were in a big box home improvement store and commented to an employee that the temperature was a bit hot inside. She explained that the thermostat for the entire store was regulated from headquarters and not even the store manager could fiddle with it. Centrally planned shopping experiences; you can't make this stuff up.
This spring we visited a large garden center and purchased two pecan trees which needed to be planted near each other in order to cross pollinate. Unfortunately one did not survive transplanting, making it necessary to replace it. When we returned to the garden center we found they no longer had pecan trees in stock. After asking questions I located the woman we were told could special order another tree. When we approached her with our problem her answer shocked us.
The lady told us that "corporate" had recently "yanked" her authority to order things. Headquarters now decided what to send and which store would receive what, including the plants in her garden center, with no exceptions. If it wasn't sent to the garden center by headquarters we apparently didn't need it to begin with. So much for diversity of product and satisfying the customer's needs.
There are other strange happenings in the world of buying "stuff". Some items are just disappearing completely. Because they are not "high demand" items perhaps no one is really missing them as of yet. Silly little things such as those canvas pocket organizers that fit five gallon buckets. I had bought a few for less than $7 each last year when we moved to the mountain, really good ones that will last 20+ years. They are great for hauling and organizing Cog's tools.
I also have one I tote back and forth to the garden each day with my drinking water and iPhone and all kinds of things I might need such as string, magic markers, seeds, hand tools, gloves etc. We found a need to purchase another and much to our surprise it was a no-go. Lowes is out, permanently. Home Depot is discontinuing them. Amazon has really expensive ones for $30 or more. You can get one that fastens around the outside, but they won't stay secure for long with much weight. So what happened? Did they just stop making them? Did the central shopping planners decide this wasn't something we needed now?
Other disruptions in the purchasing force have included not being able to find the inexpensive clothes line used to hang laundry on. I opted for an expensive large quantity of synthetic clothes line that will hopefully last much longer, but the choice was no longer mine.
Transactions other than purchases are more difficult these days. A simple return or exchange requires both a clearly communicated store return policy and a competently trained employee to complete the process. Often one or both are hard to come by these days as stores become more stringent with returns and employees are often not trained in the store return policy nor to put cheerful customer service near the top of their priorities.
I have done several things to address my buying behavior and expectations in order to align with developing circumstances. No longer do I count on being able to find what I need when I need it. Nor do I anticipate friendly help from employees when shopping. At this point I am even adjusting to not triggering when my fellow shoppers project their gloominess in my direction.
Most of the time common courtesy seems too much to muster while other customers trudge through their days trying to find what they need as well. Smiles and a polite "excuse me" seem beyond many. I encounter these attitudes at stores ranging from discount grocery stores to high end organic shops, which indicates to me that this dark mood has permeated a range of socio-economic venues.
If you are fortunate (cough, cough) enough to live in a city or town where business is still booming, congratulations. But at least take note. Those last bastions of intact shopping malls and well stocked stores may be a temporary luxury and where the foundational cracks may soon spread as the reported retail numbers are looking gloomier by the quarter.
May I suggest we all keep our eyes open and avoid getting caught needing something essential that can easily be bought today, but is nowhere to be found tomorrow. And if you are of the disposition to be a person randomly passing out smiles, don't stop now. That fellow shopper or grouchy employee is also a fellow consumer attempting to come to grips with changing times and your kind attitude and act of friendliness sets the example of how we all might be, shopping endorphins or not.