Each day I read about the deteriorating economic conditions in Greece and the unfolding hyperinflation in Venezuela, Argentina, Zimbabwe and the Ukraine. As such, I cannot bear to waste wholesome fresh food we have grown. Being a second year newbie to the homesteading scene, it is overwhelming when a bumper crop is suddenly ready in large and continuous quantities.
Last year the zucchini trickled into ripeness at the rate of about 8 to 12 per week. Then all the plants died. Before I could dig them up, they reanimated and continued to produce. From the unexpected deluge that followed, I canned bread & butter "Zombie" zucchini pickles, enough for several years.
After the initial pickling, the zucchini harvest continued to chug along. I shredded some and froze them in 2 cup quantities. Other batches I sliced, blanched and froze in gallon freezer bags. Except for the occasional stir-fry, the frozen zucchini remained where it had been put and this week I was faced with the frozen quantities as well as the beginning of the 2015 batch.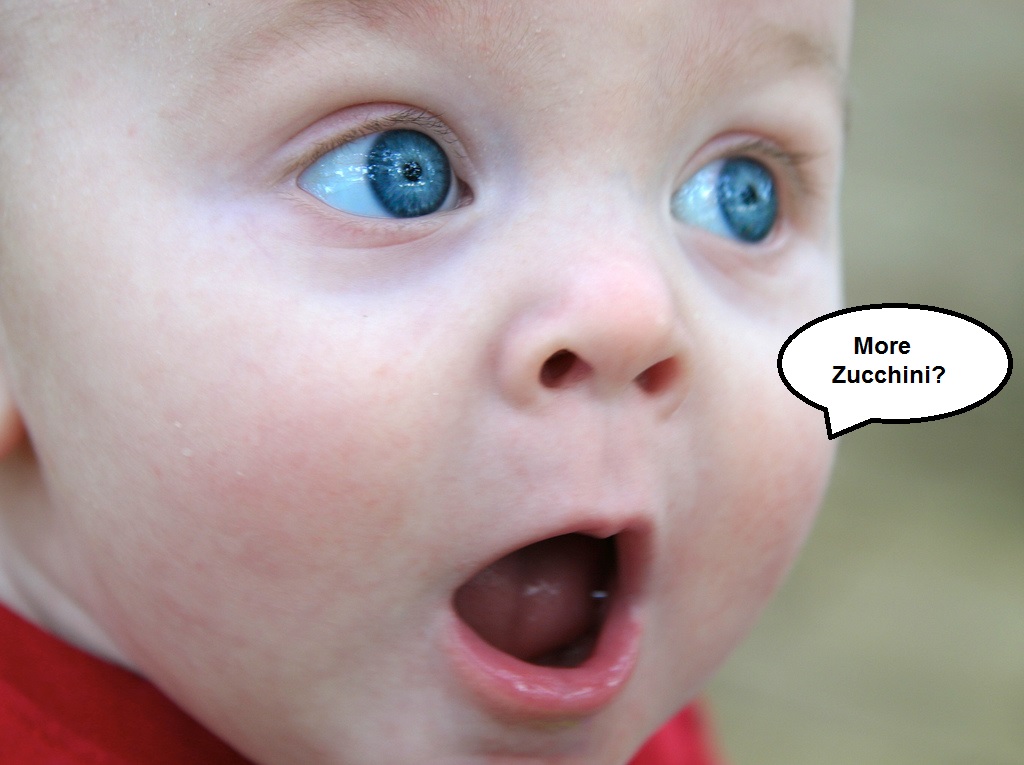 When I tell people until recently I only knew how to "fake cook", it is no joke. When I decided we needed to quickly use up the bulk of frozen zucchini before freezing more, try not to laugh aloud here, I Googled how to defrost zucchini.
I found many informative posts on the do's and don'ts regarding the art of defrosting, but this was by far the most comprehensive. From Lifehacker.com - The Best (And Quickest) Ways To Thaw Frozen Foods.  And thus we began a rapid defrosting of zucchini in different shapes and sizes.
With the help of my handy assistant, the Cog teen-unit, we proceeded to plunge the first frozen 2 cup portion of shredded zucchini into a pot of boiling water. We accomplished this by placing the frozen zucchini block into a metal screened strainer with a handle, then lowering it into the water for less than 60 seconds. The shreds promptly fell apart and we removed the strainer and dumped the shredded zucchini into a bowl.
We added a fresh, locally acquired egg, a non-scientifically measured handful of gluten-free bread crumbs and a dash of pink salt, the concoction was formed into hamburger shaped blobs and put into a frying pan with hot coconut oil. About seven minutes later, after being flipped twice, the zucchini patties, or "Zuck-Pats" as the teen dubbed them, were a lunchtime success. I dipped each forkful of mine into onion blossom sauce.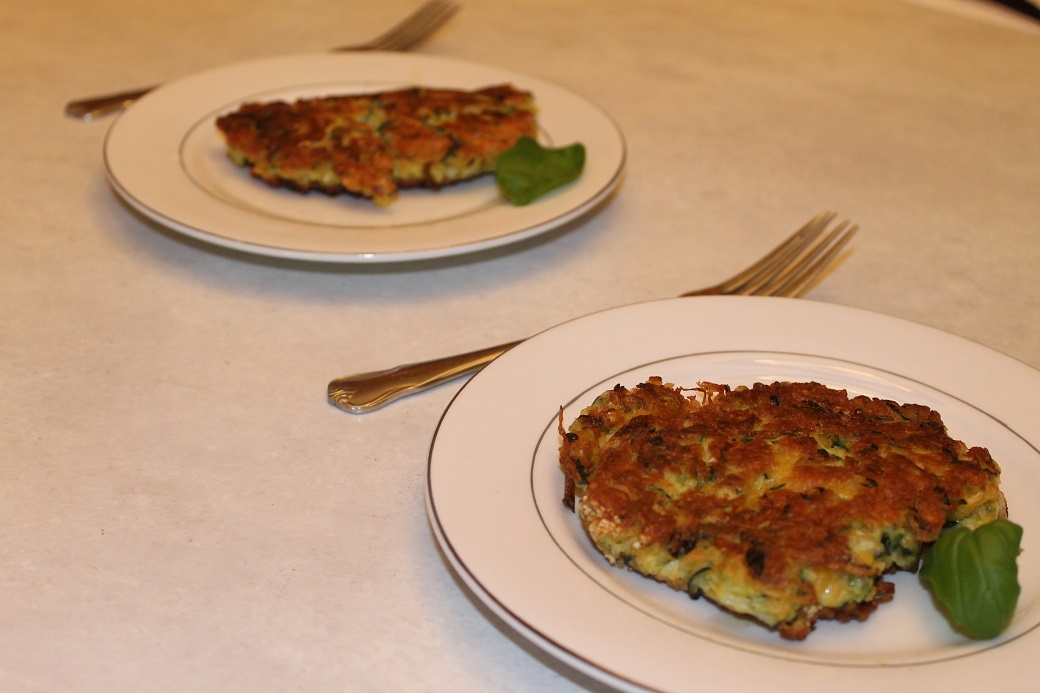 Next we defrosted several gallon zip-lock freezer bags of zucchini slices, some mixed in with yellow squash pieces. After it was thawed, we cut it into smaller pieces and slowly sautéed it in some virgin olive oil with some fresh minced garlic added. We then took out small quantities and experimented with seasoning. I liked the curry spices most.
Feeling as we were more prepared for the next frozen portion of the zucchini wave, we turned towards canning it. Allow me to take this opportunity to briefly share the conflict that has arisen in the world of canning regarding zucchini. Yes, as with all food in modern times, zucchini has become a political weapon.
From the National Center for Home Food Preservation  :
Why is canning summer squash or zucchini not recommended?
Recommendations for canning summer squashes, including zucchini, that appeared in former editions of So Easy to Preserve or USDA bulletins have been withdrawn due to uncertainty about the determination of processing times. Squashes are low-acid vegetables and require pressure canning for a known period of time that will destroy the bacteria that cause botulism. Documentation for the previous processing times cannot be found, and reports that are available do not support the old process.
The USDA lost its safety documentation? Or never had proper back up to begin with? This is an organization who I want to trust definitively on my food decisions? And who exactly is the NCHFP ?
About Us
The National Center for Home Food Preservation is your source for current research-based recommendations for most methods of home food preservation. The Center was established with funding from the Cooperative State Research, Education and Extension Service, U.S. Department of Agriculture (CSREES-USDA) to address food safety concerns for those who practice and teach home food preservation and processing methods.
Ball, the canning company,  sells the wonderful mason jars that may be a form of currency in the not too distant future. They proudly boast Ball is in full compliance with USDA standards and recommendations. I'm with the Canning Granny; I'm continuing to can my zucchini and squash.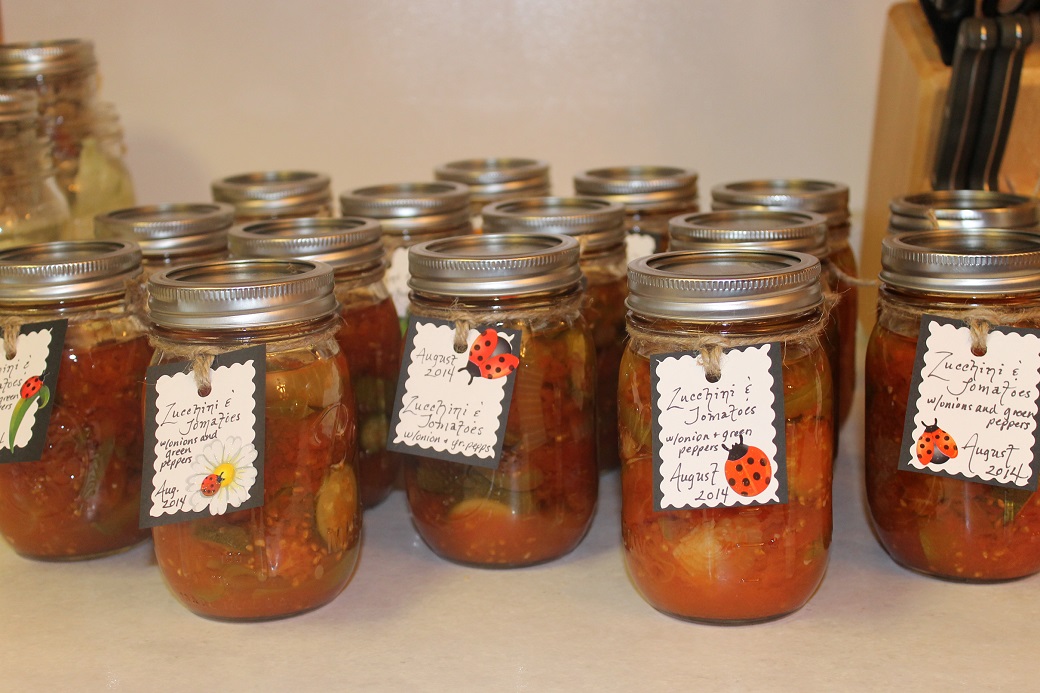 I know it is strongly discouraged by the establishment, but let us think out of the box here for a moment. Facing potential future food shortages from changing weather patterns, a breakdown in just-in-time food supply chains, and massive economic upheaval, why would an arm of a government agency deter people from preserving an extremely prolific vegetable due to lost test results? Why wouldn't they simply run more tests? Seriously, we humans can code and splice DNA but during the past six years no one has thought to find out how long to safely process zucchini in a pressure canner to rid it of potential pathogens? LOL – not buying it.
That said, I fully understand that butter, flour and dairy products including eggs can NOT be used in pressure canning recipes. These substances allow pathogens to hide during the canning process. Even in the extreme temperatures (of above 242°) these ingredients should only be added after opening a can which was safely preserved. Often this technique is employed to make a roux (equal parts butter and flour) to make a soup or sauce creamy before serving.
Many older recipes (pre NCHFP zucchini retraction) state zucchini should be processed in a pressure canner at either 30 or 35 minutes for pint jars and at the proper weight for your altitude. I pressure can my pint sized zucchini products for 40 minutes. The danger of over-processing things in the pressure canner is that they turn to mush. My zucchini endured the process just fine.
Here are some great ways I will consider enjoying summer zucchini and squash after pressure canning:
Of course, almost any pickle or relish recipe for water bath canning can substitute zucchini for cucumbers. Zucchini can also be preserved by dehydrating and stored for a period of time as baked chips. For the ultimate zucchini recipe link bomb, I recommend the Zucchini Harvest – Recipe Roundup at Imperfectly Happy.
With all the fabulous options for that which won't stop growing, don't let the prospects of over-production hinder you from starting a few extra plants. The worst that could happen is you find yourself leaving them in the mail-box for the postman, bringing extra to the gals at the local bank or forcing take home bags of zucchini onto the UPS driver. :-)