Busy, busy, busy is an understatement, but with all that can be accomplished during the short growing season between late May and early September it's hard to slow down. With the abundance of wildlife, flowers, food and herbs, both medicinal and culinary, there is a constant barrage of things to pick, dry, can, shoo, photograph, repair, water, and feed. I plan to post a canning update soon for anyone needing a fix, complete with recipes.
The animals here are wonderful companions and always add personality to the homestead. This year there is a group of six crows that come and go. I know they are the same crows each time because one of them never learned to "caw-caw" like the other crows and instead quacks like a duck. That still makes me smile every time. :-)
There are a regular group of bunnies who hang out under the neighbor's apple tree down the road. Their standard operating procedure is to scatter when Cog approaches on his tractor or when I come near them on my morning run. But now there is one bunny who is taking a stand. Enough of running in fear and hiding, he is standing his ground and refuses to budge for the silly human activity. I hope he isn't being mocked by his bunny community for being different. He does get to enjoy his pick of the fallen apples under the trees.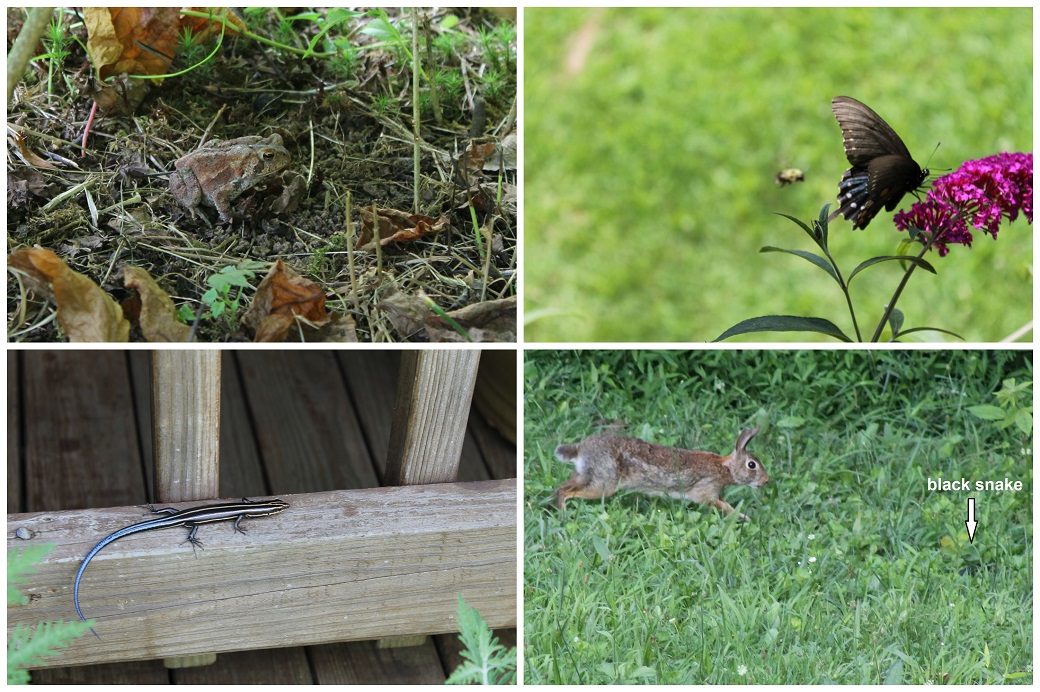 The garden continues to prosper, although there have been struggles and failures after almost three weeks of rainy days, cooler temperatures and very little sunshine. All but a few lingering cucumber plants are finished, but not without ample supplies of dill pickles canned. The zucchini appears to have called it quits, but it does this every year and then rejuvenates itself in August for a second round of production.
The watermelon have gotten out of hand. They have sneaky vines which I move out of the kiwi trees and the potatoes almost daily, but have managed to overwhelm the garlic patch and most of the room allocated for the cantaloupe. We have quite a few melons growing bigger and bigger. It's a good thing they are one of Cog's favorites.
The tomatoes have just begun to ripen. As usual, I have planted far too many plants in anticipation of the blight (a catch-all term for ten kinds of tomato fungus) which is unavoidable, even with treatment, according to all who live on this mountain. For every unhealthy branch or fruit I cut away, two healthy ones grow in their place. I continue this process throughout the summer and the yields are quite good. At this point I am picking about ten to twenty per day, but that should increase next month to about fifty or more per day.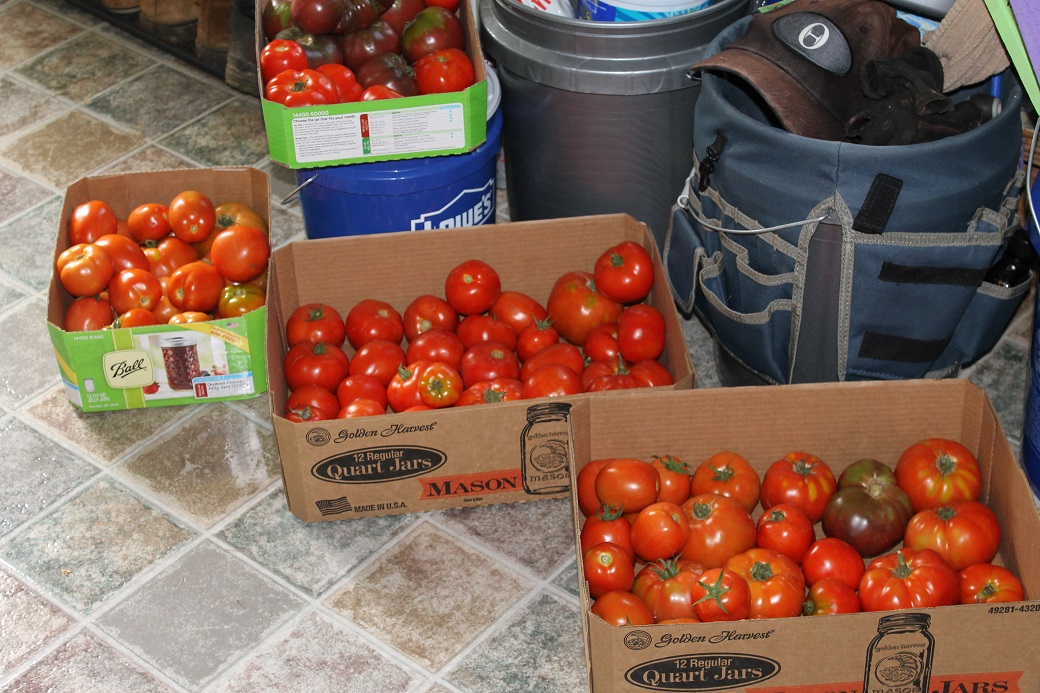 Thank goodness for the peppers. Sweet, bell, banana, jalapeno and cayenne are all having a banner year without a sign of blight, pest or weather problem. They are my superhero harvest this season and have continually produced peppers that are almost too pretty to eat. The two huge red pepper plants have fruit ripening on the vine which are over nine inches long. Those have been mentally earmarked for a few gourmet dinners of fresh roasted red peppers with something special, perhaps a few lobster tails or steaks?
The herbal department here is thriving and I am always happy to add to my knowledge of natural health, particularly when it involves items that grow naturally here all around us. I cut herbs almost every day and have shelves and trays in a sunny window where they dry quickly and can be transferred into their storage jars for use in teas or poultices as needed. This week I am gathering the prolific flowers of Queen Anne's Lace. Among its many effective medicinal qualities, it has been traditionally used to prevent and treat kidney and gall stones as well as to lower blood sugar.
Prior to these blossoming, I was cutting yarrow leaves and flowers which can staunch bleeding and help to heal wounds. It is also effective against colds and fevers and can improve circulation.  Over the summer I have cut red clover blossoms  and plantain as well since they see fit to grow everywhere and are so beneficial.
Cayenne, which I was growing for cooking purposes, turns out to be a wonderful health aid. I feel a bit less silly about the ridiculous number of cayenne peppers coming from my garden this summer since I have learned a bit more about them. A short free pdf on their properties can be downloaded from here: Mastering Cayenne.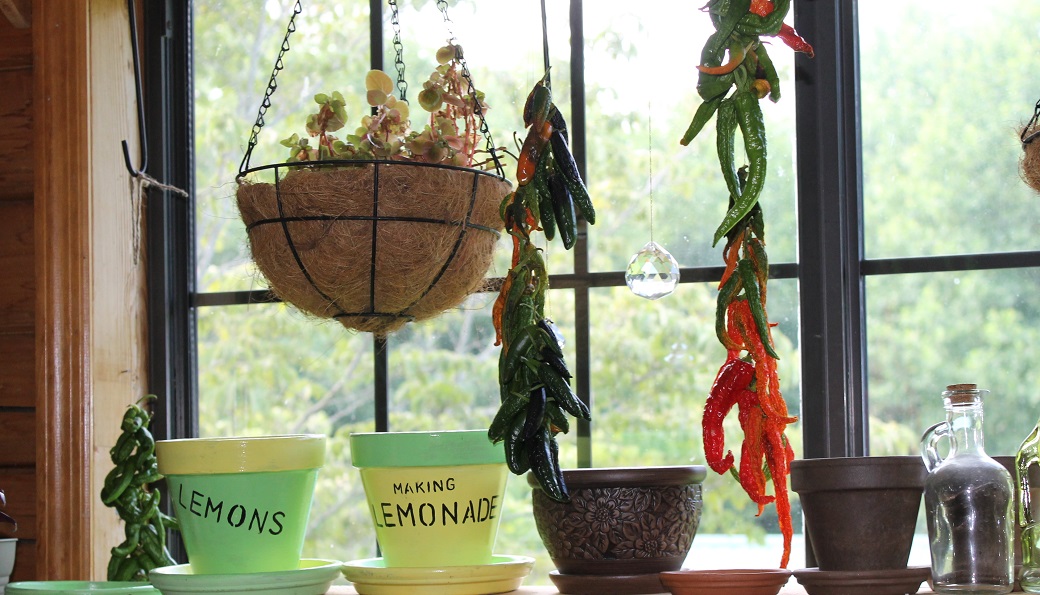 The cayenne peppers turn red as the ripen and dry in the sunny window.
Cog has been hard a work with his challenging job schedule. On his "off days" (lol) he can be found cutting grass, maintaining the grounds of several other local properties, making repairs and still upgrading our homestead. Cog just installed and finished the trim around the eight foot wide Pella sliding glass door which was the last improvement on our original move-in list. This counts as a great victory. I pointed out that we never finish lists, just cross off the top and add to the bottom. But THAT list is finally finished in total. :-)
You can see below, as predicted my sunflowers did indeed grow to bloom and cover the lower portion of our small solar panels. Cog playfully threatens to get out the machete and cut them away and I counter with suggesting I might accidentally disconnect his entire prized solar system. In truth the flowers have had little to no impact on our operations and will be harvested over the next weeks.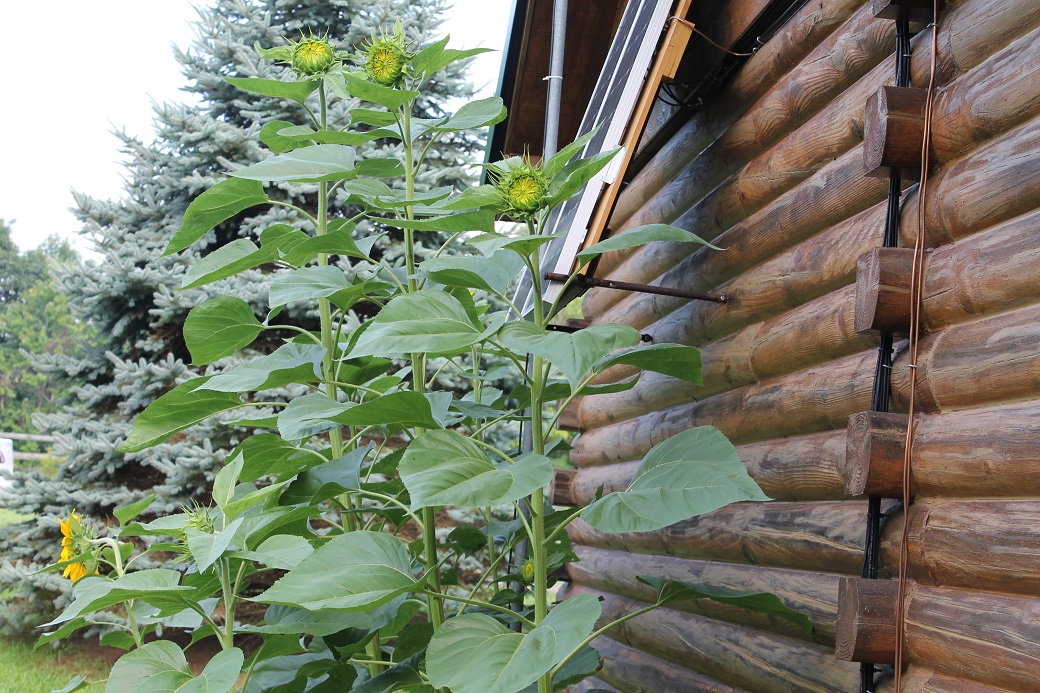 In closing, does anyone have a theory as to the purpose of these spider webs (shown below) on our back deck? Was this a contest or group effort on their behalf? Perhaps it was one frustrated arachnid who just felt she couldn't get it right so she continued to start over? Any ideas would be welcome either below or through a quick note through Contact the Webmaster. Thanks!