We blinked and Spring arrived. It snowed and then it was 70°F.
Hitting the ground running, there has been very little rest lately as we dove into work mode. We willingly function in a "work until we drop" mindset and often our evenings are spent with sore muscles and a quiet sense of satisfaction. Personally, I don't mind one bit because we are working for ourselves.
Cog's progress on the barn resumed after the last snow. With the lower level sided and the upstairs gable end studs now in place, it should be interesting to see how we manage to get the T1-11 wood siding on the front and back of the upper level. This will be particularly challenging on the back side where the slope of the land drops off rather steeply and the feat requires long ladders and lots of bracing to hold the siding in place while Cog nails it.
After we install the siding on the upper level gable end walls, then build the gable end overhangs, the roofing begins. I am looking forward to the final steps when the front barn doors and all the windows, which have been framed, appear and completely change the look of the structure. It really is a labor of love. At least that's what I keep telling Cog. :-)
Our mountain is coming to life quickly this Spring as the peach trees are beginning their bloom (shown in the header image above). The crocuses and daffodils along the dirt road have blossomed and quickly the shrubs and trees are gladly turning green.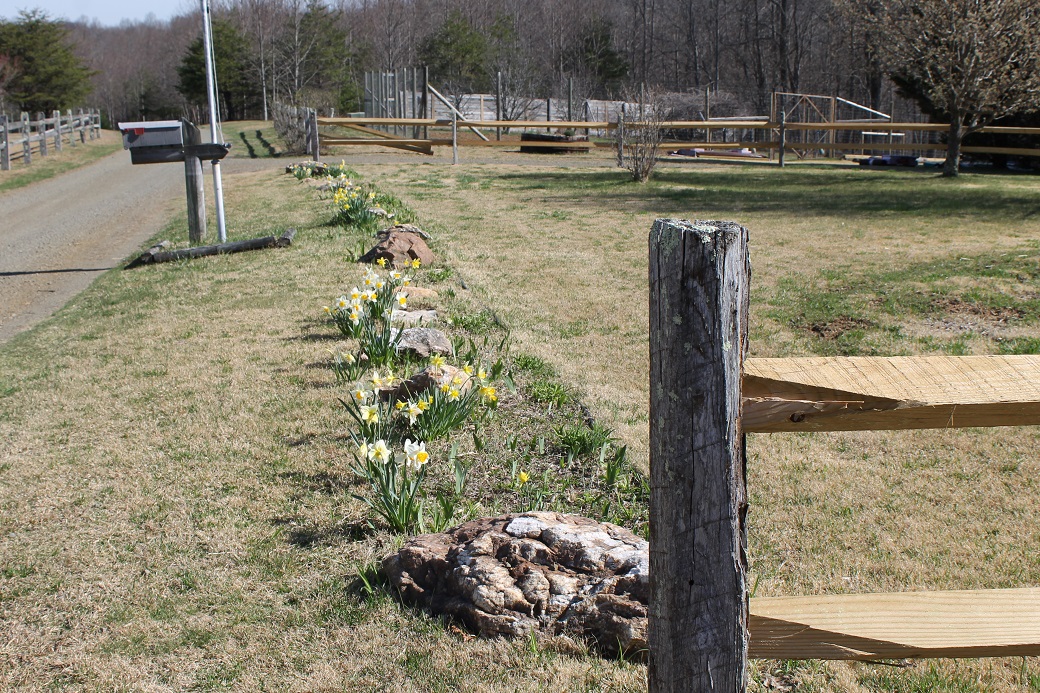 This week we planted several varieties of lettuce and kale. Yesterday, three new grape vines were added to the little vineyard trellis area in the garden. This is especially exciting because this year's addition are seedless red grapes. Red grapes are the only substance containing resveratrol, a natural regenerative compound often found in expensive "age-defying" products.
You might recall a recent write-up here on Two Ice Floes about the amazing properties of willow bark. Since then, I have successfully made and used willow bark tea as a rooting hormone to propagate hardy kiwi, blueberry bushes and several herbs. After witnessing the amazing properties of willow bark, I am thrilled because we just planted a willow tree in the front yard.
This tree will become a giant in very short order. Dubbed a "whomping willow" by the teen Cog in honor of her beloved Harry Potter books, these trees grow at a rate of nearly ten feet per year and reach 40 to 70 feet tall and 40 feet wide. Not only will I have an unlimited lifetime supply of willow tea, but it is just silly-simple to propagate… wait for it… more willow trees.
I was practically giddy when my research revealed there is plenty of salicin in weeping willows , similar to the white willow I have been buying. Then I discovered there are more than 400 varieties of weeping willows because they cross pollinate, creating their own 'natural' hybrids. After discovering I can get unlimited supplies of the medicinal component we use without harming the tree, it was a lock. The tree was planted yesterday. :-)
In between planting and working on the barn, the first one and a half cords of wood were stacked in order to season for next winter's heating. Typically we burn 6 to 7 cords in the water wood boiler stove to heat our cabin throughout the winter. The task of readying the wood now, during late winter and early spring, allows the wood to season over the summer and provides us with much more pleasant weather to tend to splitting and stacking.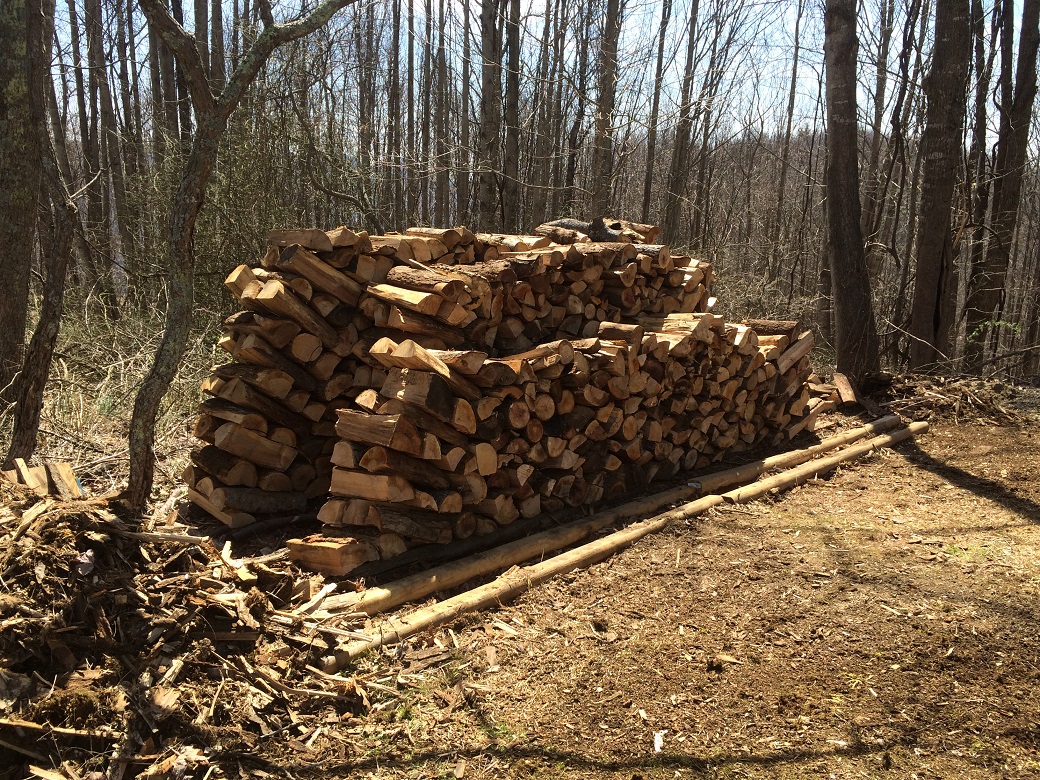 Cog has promised a series of articles describing the process of building the barn essentially alone, with the occasional helping hand offered by me when needed. Watching Cog build the barn from the ground up has been an eye opening experience. While I have witnessed construction projects before, never before have I watched it up close and personal. It has been fascinating seeing everything come together in a step by step process.
Over the last several months, as Cog explained some of the engineering principals to me and I watched the barn progress, I have been able to relate quite a bit of it to my craft projects. While the materials are different, there are many similarities with regard to construction planning, material attachment, stress, tensile strength, curb appeal and esthetics.
Stay tuned. Spring has just begun, and with it the promise of many more updates from the mountain.
03-25-2016
Mrs. Cog