When Mrs. Cog and daughter joined me in life several years ago they brought along a third member of the gang: Tramp, a 18-20 lb 'personality plus' Maine Coon Cat who was King of the Castle. Tramp was always an indoor cat, had been since birth, which of course meant a litter box always needed tending too. That was not my area.   :-)
I always told Mrs. Cog that Tramp would be happier if he had access to the outdoors. About 20 years ago I also had a cat that was originally an indoor cat, and which I transitioned to outdoors. He seemed happier after I had done so. However I suspect Mrs. Cog just thought I was running propaganda on her in order to 'lose' the cat accidentally on purpose. "I love you honey, but don't mess with my cat."
One day the cat got loose (nope, not me) and Mrs. Cog was beside herself with worry, concerned that all manner of horror would befall 'our' cat. I tried to reassure her, carefully explaining that Tramp was no fool and knew where his supper dish was. Not sufficiently consoled, Mrs. Cog and child unit scoured the neighborhood looking for Tramp sign to no avail.
Two hours later both Mrs. Cog and child, tired and exhausted from the fruitless search,  sat in the family room with me as we discussed how Tramp would eventually show up. Seemingly as if he had just heard his name, or more likely feeling hunger pains, Tramp suddenly appeared at the sliding glass door none the worse for wear and hungry, demanding he be fed after his long journey.
Soon enough Tramp began his metamorphosis from indoor feline to outdoor killer. I immediately began a cat training regime after promising Mrs. Cog that I would be rigorous in my duties and would never let Tramp out of my sight. And for months on end I faithfully fulfilled my duties, staying camped at the sliding glass door, either inside or out, while Tramp explored his new universe, a fenced in area that measured 22 x 25 feet. Unfortunately the litter box remained inside.
Of course the cat was not whom I was actually training. It was Mrs. Cog that was being conditioned to the idea that her admittedly cute cat might just survive, and thrive, outdoors. Of course several times over those months Tramp would 'escape", only to faithfully return to his food dish. I love it when a plan comes together.
It was about this time that the decision was made to move family and possessions to our new log cabin in the mountains. Since we would be living off a dirt road off a dirt road off a back road in the middle of nowhere, Mrs. Cog wasn't worried about cars hitting Tramp or nasty neighbors scooping him up to be eaten. She was slightly worried about Tramp eating grass. However, after reading www.tuxedo-cat.co.uk/why-cats-eat-grass/, she was pretty happy. I didn't initially tell her that the lions, tigers and bears......well, the bobcats, possums and bears might just be a greater hazard to Tramp. Baby steps.
One thing we all agreed upon was to remove the littler box once we moved to the mountains and let Tramp do his do-do with the bears and bobcats. Needless to say Tramp has taken to the mountain with joy in his heart and lots of dead prey plopped on our front door step. One must now look carefully when we first open the front door to step out.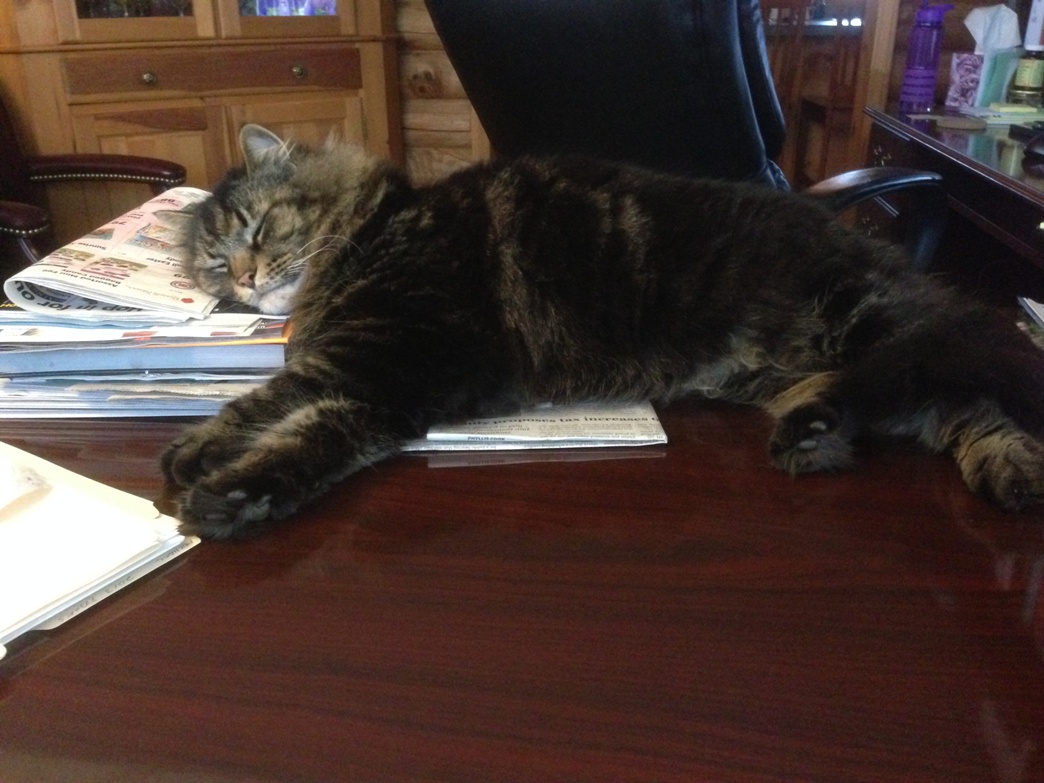 That is one fat cat.
Since moving here I have wanted to install a cat door to allow Tramp independence when coming and going. But the front door has a screen door, preventing the installation of a cat door in the main door unless we want to cut a huge hole in the screen door, rendering the screen door useless as a 'screen'.
And both rear doors are sliding glass doors, which eliminates a traditional cat door installation. I have seen those special cat door units that fit into the sliding glass door and I don't like them at all. They prevent the slider from being properly locked.
So for the last 9 months we have been opening doors to let the cat come and go as he needed. We quickly settled into a routine where Mrs. Cog, a sound sleeper by nature, would not be disturbed when Tramp insisted on answering nature's call at 4 AM. I on the other hand, being a light sleeper by habit, would of course  awaken when Tramp bitterly complained and let him out, thus cementing my own personal cat conditioning.
While dogs may have owners, cats have staff. And I was his number one staff member. I really hate the fact that I have bonded so tightly with Tramp that he now has me wrapped around his finger.
It was Mrs. Cog who actually saved me from myself when she suggested I install a cat door in the office window, which looks out upon natures beauty and the back deck. Recognizing brilliance when I see and hear it, I immediately scoured the Interwebby thingy for cat doors.
I needed a large door for our very large Tramp, but I also needed some kind of locking mechanism to prevent unwanted critters from helping themselves to our cat door. I told Mrs. Cog I did not wish to wake up at 3 AM and find myself nose to nose with the local wildlife who had entered via the cat door. She enthusiastically agreed after a mental image of waking up to a possum on her bed sent chills through her spine.
I settled on a magnet triggered cat door that quickly responds to Tramp approaching the door from the outside. The magnet hangs from his collar and unlocks the door when Tramp pushes his head against the door from the outside. Let's just hope the local wildlife don't have magnetic personalities or we are all in trouble.
Installation consisted of cutting a piece of plywood to fit the window opening, then cutting an opening for the cat door itself. After priming and painting the outside I installed the door, then placed the entire mechanism in the window opening.
I jammed a piece of wood between the raised window and the header to prevent someone from simply lifting the window some more, removing the plywood and waltzing in. It's not perfect, but when you think about it, locks just keep the honest people honest. The crooks are going to find a way in regardless of what home security you and I have.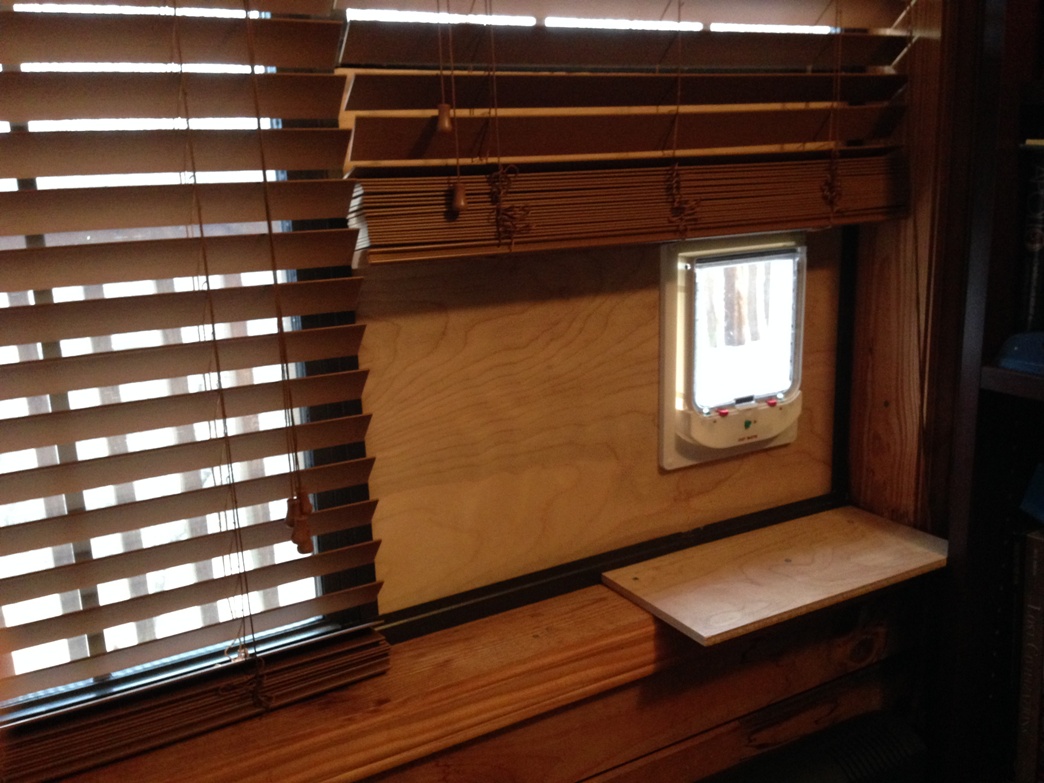 I screwed down a small piece of left over plywood to give Tramp a perch to exit from and a landing when entering. The picture doesn't show the slight modification I made. Basically I turned the plywood around and the long side is now hanging off the window sill. Essentially Tramp now has a diving board and a place to sit that he can call his own where he can look out the cat door and watch the world go by.
This still left the problem of the large drop off between the cat door and the deck outside. Tramp needed a place to jump up on, then attempt to enter. I wracked my brain for a day thinking about stools, steps and so on until it occurred to me while feeding the Heatmaster 5000 water wood stove that a few logs placed on end as a landing would blend perfectly with the log home. Sometimes the answer is obvious and we just need to find our way there.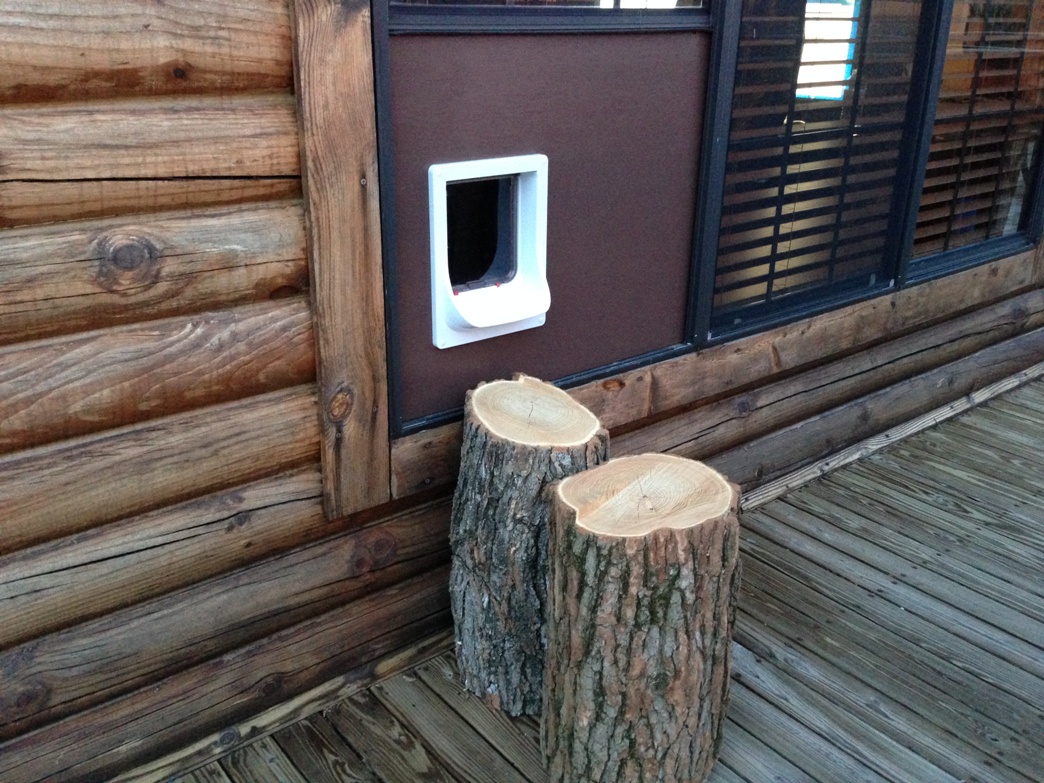 The only remaining hurdle left was Tramp training. I figured it would be about 5 or 6 days until Tramp felt at home using the new door when when Mother Nature called and he wanted to exit stage right.
For the first few days, whenever Tramp indicated to me that he wanted to leave, usually signaled by his location near the front door as he screamed at anyone within ear shot. I would grab him up, place him on the perch, then gently push his head against the cat door to push it open.
When he would show up at the front door or rear slider demanding entry I would sneak outside, grab him, place him on the logs and then gently push his head against the door to open it. Obviously I absorbed the training quicker than Tramp did.
The first time Tramp used the door to enter the house on his own we were both in the office and loudly praised Tramp for a job well done. It was almost as if we were potty training a very young child. Actually we were.
Tramp now comes and goes as he sees fit. And the last few days have been a blessing since I have not been woken by Tramp's demanding cries to be let out. Of course I still wake up around 4 AM. I suspect it will take me several months to break my own conditioning.  :)