by Mrs. Cog
Over the past week, as my tennis ball saga continued I learned a number of valuable lessons. If anyone missed my accidental discovery and initial wonderment over black walnuts appearing in our back yard, you can find it here.
First lesson. It hurts to get clunked in the head by green walnut pods free falling from heights of 70 or more feet. I now understand why people wear motorcycle or football helmets to gather them, especially when the nuts are ripe and falling while the wind blows.
Second, the pulp between the outer green husk and the inner hard nut shell is a powerful black dye. If anyone knowledgeable in this area knows how long this will remain on my hands or a substance that will remove it, please contact the webmaster to share. In my defense I did wear nitrile gloves to remove the husks, but every hour to hour and a half I would notice a finger had torn away and exposed my fingertip. It was cute at first; with one discolored index finger I resembled an Iraqi voter. Now all my fingertips are blackened.
Third, the process of "using the whole buffalo" as it applies to black walnuts is extremely time consuming and potentially frustrating if one doesn't know what to expect beforehand. Working for three whole days in order to end up with 3 ½ five gallon buckets of nuts still in their shells, six 4 oz. jars of black walnut salve and an enormous new pile of organic compost (far from the garden) which will act as an organic herbicide as it degrades, may seem like an outsized commitment. In the end, I found the experience completely worth the time, effort and challenges because I now have three powerful items (healthy nuts, medicinal salve and natural weed killer) which cost me nothing except my time and labor and more self-sufficient confirmation endorphins.
Just for the record, here is what I did. In order to crush the majority of hulls to extract the nuts, I spread some out over a tarp on our gravel driveway and proceeded to run over them repeatedly with our lawn tractor. For some reason Cog found this highly entertaining and took video footage which I promise you will never see.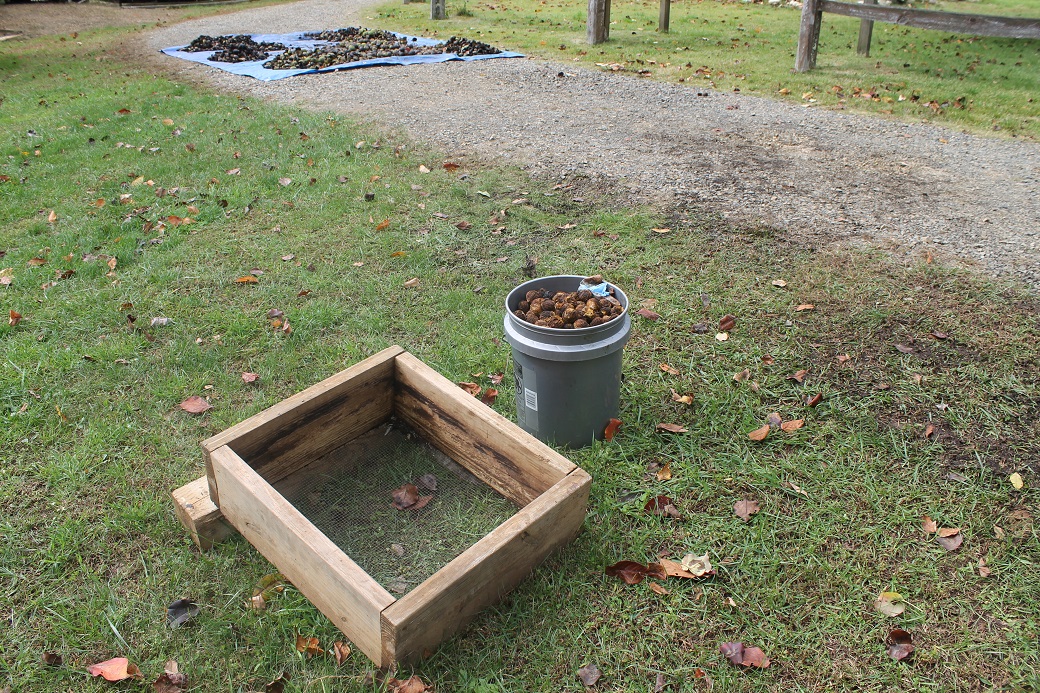 Next I plopped down on the tarp and swatted at the aggressive bees as I pulled each sticky nut from its hull. As I freed each pulp coated and goopy nut from the hull, I would take a break every 75-100 nuts and pressure wash them in a wooden box with a screen mesh bottom. After getting most of what would detach from the nut shell off, I would spread them on the gravel driveway to dry for several hours and return to the tarp to de-hull the next batch. I did this for two days.
As I was hauling the unused outer portions to a place where they could decompose safely away from other plants they could kill, I was conked in the head with fresh falling tennis balls. After finishing the second day of work, I gathered a five gallon bucket of fresh fallen ones. I smashed each of them once or twice with a hammer, extracted the nut and put the fresh hulls into a kettle.
Once inside I cut many of the freshest green rinds with their pulp into bite sized pieces. I then crushed a small handful at a time into paste using the mortar and pestle. As they turned to mush, I added them to coconut oil I had simmering in a stainless (non-reactive) pot on the stove. The paste and pulp stained everything it touched. I was careful to use disposable craft sticks to stir the concoction and make sure nothing touched the counter-tops.
After the oil and walnut hull paste had simmered gently for more than an hour, I drained it in a fine mesh colander lined with cheesecloth into a glass bowl. It was a dark green-blackish color with a fine sediment settling at the bottom.
I gathered up six 4oz. mason jars and in each I added:
2 Tablespoons organic beeswax pellets
6 Tablespoons of the black walnut/coconut oil
¼ Tablespoon liquid Vitamin E
5-6 drops clove essential oil
With two of the small jars, I added an extra Tablespoon of coconut oil to one and two extra to another so I could experiment with the firmness and spread-ability of the final product. I found that a 1:4 or 1:5 ratio of beeswax to oil makes a good consistency.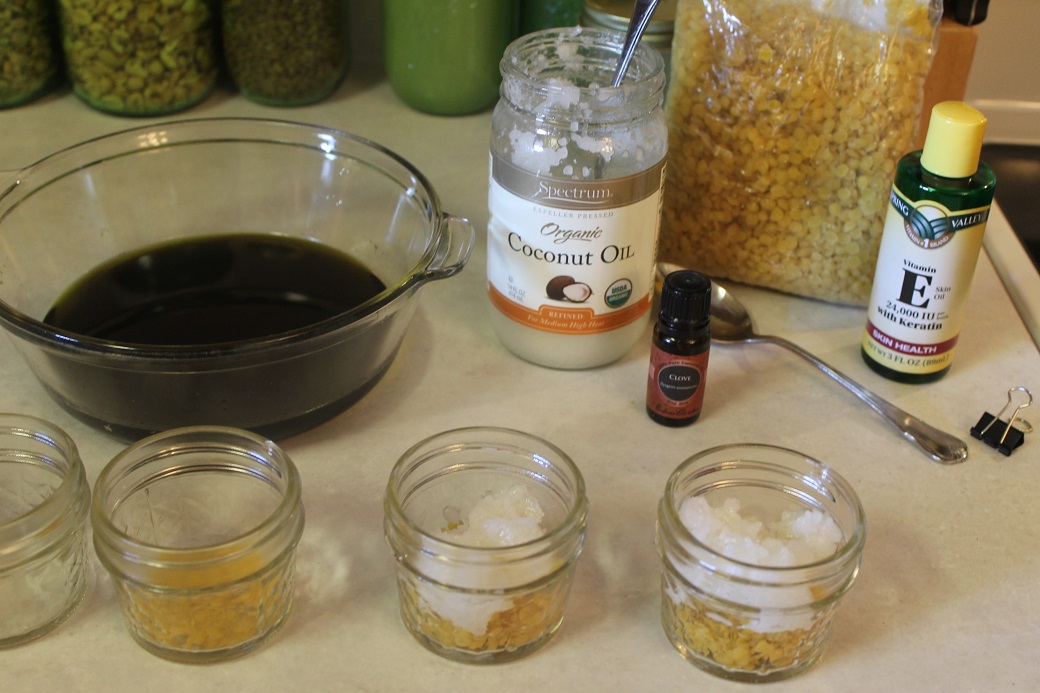 One by one, I put the small jars with all their ingredients into less than two inches of boiling water in a pot for about two minutes to thoroughly melt the beeswax. I stirred several times while it melted with a wooden craft stick I could throw away when finished. When the jars were finished melting, I placed them on a towel to become cool and firm over several hours.
Does it sound like a lot of work for a few jars of ugly green goopy salve? Because the real work has not yet begun.
Black walnuts, the nut itself, cannot be opened with a nutcracker. There are only two options I have found. One is a hammer which often splatters sharp nut shells in every direction. The other is a mounted vise like one finds in a wood worker's or mechanic's shop. Once cracked the meat of the nut is not easy to extract.
I have 4-8 weeks before the nuts have dried enough to begin opening. I look forward to spending many hours in Cog's workshop later this fall, sitting at his vise while he works on various projects. And here I always thought it was Cognitive Dissonance who was the tough nut to crack.