Above image: Just last week the ground was frozen. Now the grass is turning green.
There are two months until the official last frost date is here in Zone 7A, and I am excited. We have just enough time to plan the garden, start indoor seedlings, and prepare the growing areas. A few select plants can go into the dirt prior to first frost, such as lettuce, spinach, carrots, beets and potatoes.
Some of you may remember the saga of us fencing in a quarter of an acre last year by ourselves. We put in ten feet tall treated posts two feet deep into the ground, anchored with cog-crete, and trenched, burying bunny wire below the dirt for extra security. While the local farmers and supply stores assured us this was overkill, on account of everyone near the mountain has a local bear, the fact is these locals seek to supplement their food with a garden. I want to know we can feed ourselves no matter what. The eight foot high fence keeps most of the deer from going over ↑, the mean bunnies from digging under↓, and the bear who just leans on garden fences to topple them → from going through.
We completed the fortress garden fence in June last summer and the garden season was already well under way. Planting what we could inside the old garden fence, which was hanging on by a thread within the new garden boundaries, we still ended up having a banner growing year.
But this year, I am a kid in a candy store. I have this gigantic space to work with and can devote my time and energy to doing just that. The last of our snow melted last week (knock on wood) and finally Cog and I had a sunny day to assess and make lists. What began as a let's take a walk and take notes agenda turned into a full kick your butt work day as we rolled up our sleeves and got to work.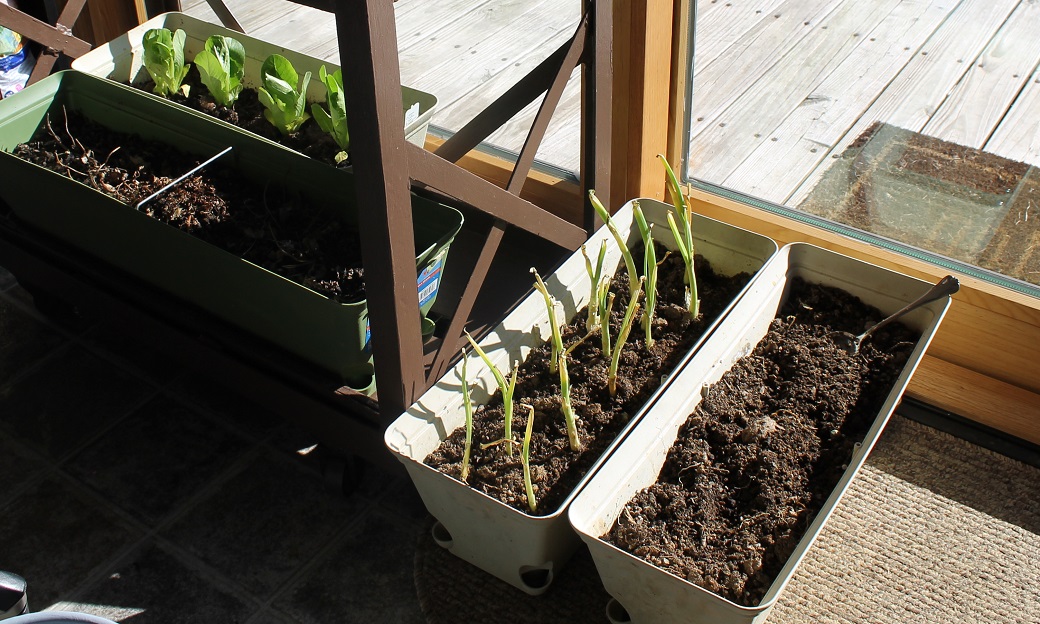 Having the map of where plants were located in the garden for last year's crops, we discussed what we wanted to grow and how much. I read it's all about crop location, rotation, rotation. And I admitted more than a hundred tomato plants was a bit overboard, but we used them one way or another and now I know better.
Cog used the big Husqvarna tiller and turned the "early bed" for cabbage and lettuce and two new perennial beds near the fence. He then squared up the larger field. That tiller is so large, it makes quick work of turning lawn into soft clay and rock loam. And it is teeming with worms. :-)
Over the cold winter months, I had obtained an old rusty metal mailbox and its large wooden post. I sanded, primed and painted the mailbox during a few cold recent evenings. After turning the beds in the garden yesterday, Cog dug a hole and put in the old post for that mailbox. When I have finished painting and sealing it, he will anchor the mailbox itself to the post so I can keep a pair of garden gloves and pruners in the garden safe from the weather. The post is large enough to put a hook into and hang a basket of flowers. He really is wonderful about humoring me and my pretty projects in between getting the real work accomplished.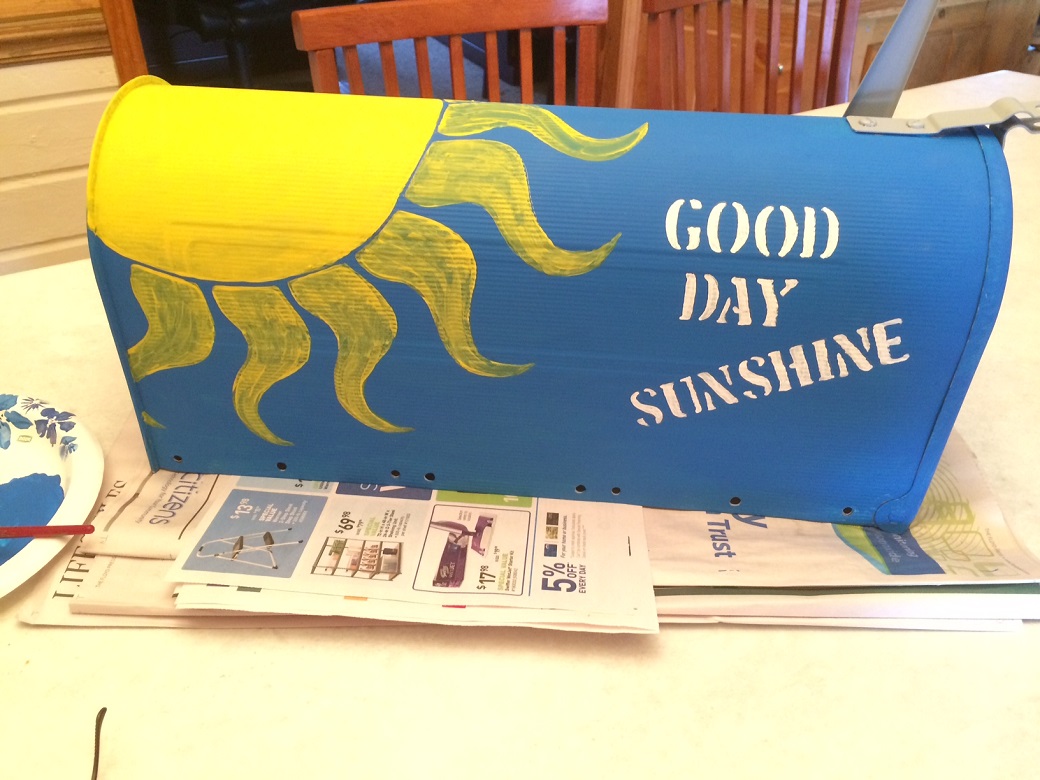 One of the beds Cog turned was a plot in the corner of the garden to be my permanent strawberry patch. I had carted with us a couple of very large pots of strawberry plants in worm dirt when we moved here. They were already several years old and even though I had repeatedly left them to die, they wintered down and roared back each spring. Now those four year old plants, along with their babies and grandbabies will be deposited in their own plot of earth, approximately ten by ten feet large. I may add a few new additions, but at the rate these have divided and multiplied over the past few years, I would hate to have another explosion similar to the tomato deluge. Can one ever have too many strawberries?
Another new addition, a hearty perennial, will be purple asparagus. I will give them a full year to let them take root and have some initial growth before we harvest any to eat, but these plants should be on autopilot thereafter. Cog turned a strip about ten feet long and two feet wide in a sunny space for me to plant them at my leisure. Generally within four weeks prior to the last frost is recommended.
"No honey, you DO like asparagus. Just wait and see."
After planning our plant choices and crop rotation for this year, we began looking into added several more trees. Within the garden fortress are the six apple trees, a plumcot (plum/apricot hybrid) tree, three hardy kiwi trees, two monster blueberry bushes and our latest addition of two dwarf peach trees last year. This year we are adding two kiwi trees (a male and a female) of a different type. We have already purchased them and they are staying dormant in an unheated out-building until we can plant them after the danger of frost has passed.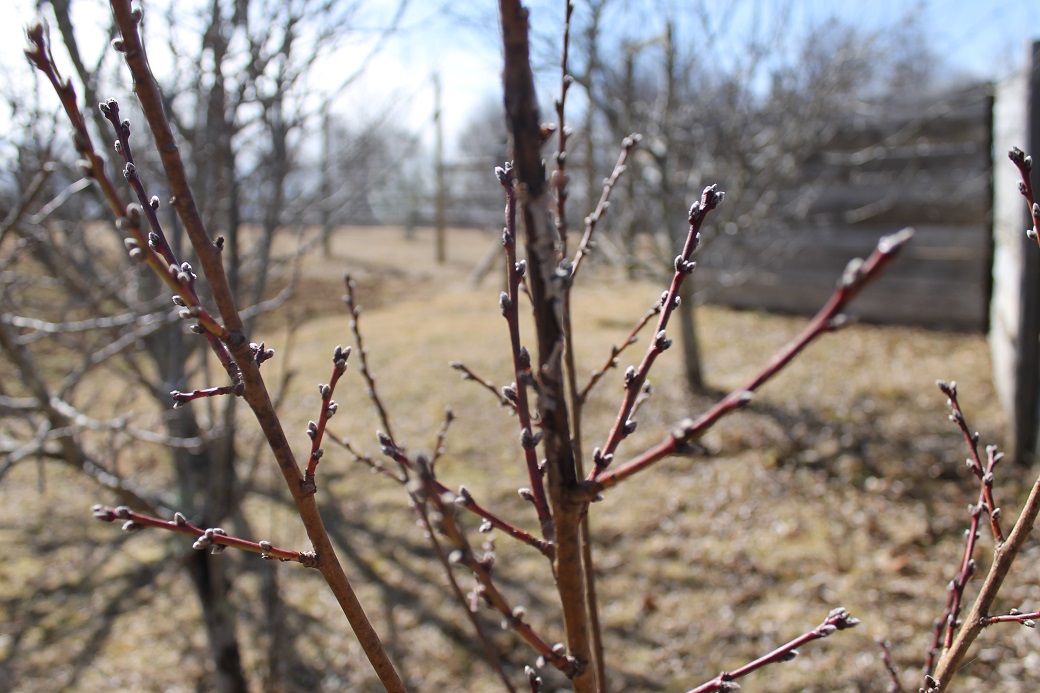 The three pecan trees we planted in the back yard last year are doing well. You may recall we bought two different types, as they need a different type of pecan tree in order to pollinate well. One of those died and the other one thrived. We had a heck of a time replacing the deceased. Late last summer I became lost on poorly marked back roads while searching for a strawberry farm and accidentally came across a nursery that had other varieties of pecan trees. What are the odds? Just to hedge, I bought two. So this spring the original Pawnee and the two new Stuarts are thriving and full of buds waiting to explode with growth. In five years or less until they should yield almost 100lbs. of pecans each year.
We are looking at the details of obtaining three hazelnut trees for the front yard. Much smaller and more manageable space wise, this would be a great addition as hazelnuts are one of Cog's favorite snacks.
Aside from planning to plant all the usual suspects, I am undertaking two other new adventures this growing season. One is mustard, of which the entire plant is edible. I confess I am in it for the mustard seeds which are necessary for pickling and are skyrocketing in cost over the past few years. In keeping with a more frugal and less consumeristic mindset, I am going to try to use the whole cow, or in this case the whole mustard plant, leaves, roots, flowers and seeds. The second new challenge is horseradish. I have a write up in the works on the advantages and extreme perils of growing that beast.
Many lessons were learned last summer as I continued the transition from city mouse to country mouse including biting off more than I could easily chew. This spring and summer, I am limiting my growing efforts to a few select spots. Aside from the garden proper, I plan to limit the high maintenance flowers, herbs and container growing to the front porch and indoor sunroom. Last year I had hanging baskets and oversized pots on the back deck and in several locations around the property. No longer in the suburbs that scream for meticulous lawns and manicured beds, my ornamental growing can be delegated to perennials such as bulbs, roses and hydrangea.
There is a raised barrel bed where I have mostly perennial spices growing. I hope they will come back as planned this year. The rosemary, chives, echinacea and my favorite flowers carnations were well mulched and I have my fingers crossed.
On another note, a new batch of possums are now visiting both the front and back porches. I'm not sure which disturbs me more, that the word is out about the cat food porch buffet at Chez Cog, or that I know them well enough to tell them apart to realize this is a new crew lol.
I hope everyone plans to grow this season. Even if you have no room or time, I encourage you to dive into what you can grow from the grocery store. I bought a bunch of organic fresh scallions and have regrown them after consuming more than six times now. Even the teen reaches for a few to chop on top of a sandwich, baked potato or bowl of soup. Lettuce, onions, celery and garlic are just a few of the things you can regrow with no fuss. There is nothing quite like having live, fresh food that you have grown yourself with your meal.
And finally, for fun and inspiration, here are a few of the sayings I found for small signs or to paint on herb pots.
Trespassers Will Be Composted
Frog Parking - All Others Will Be Toad
GROW! damnit
Gardeners Know All The Dirt
Give Peas a Chance
Compost Happens
Gardening - Just Another Day at the Plant
Garden Tours 5¢
Ring Bell - If No Answer - Pull Weeds
We Are So Excited We Wet Our Plants
Kinky Is A Cheap Garden Hose
Forget The Dog - Beware of The Children
Now Entering the Seedy Part of Town