It was a dark, stormy night. I was home alone. I've seen some spectacular lightening over Cheyenne Mountain in Colorado Springs and watched storms roll in from the west on the Outerbanks of North Carolina. But never have I seen such quick and sustained flashes of light as the storms produced here last night. Did I mention I was home alone? Things were most definitely going "bump" in the night.
After more than a half hour of a light show that would rival Hollywood CGI, I stepped onto the front porch and began rolling a video recording of the sky. Less than a minute later, my footage ended abruptly as there were loud noises behind me and I suspected I was not alone. Thoroughly frightened for a moment, I dashed back inside and locked the door behind me. Cog says locks are to keep the honest people out. Perhaps I was hoping Teddy was an honest bear?
It was early today when I stepped back outside to call Tramp, our coon cat, who had gone MIA as sometimes happens with strange energetic storms. It was then that I saw what had been crashing behind me last night. Had I not been caught off guard, that bear and I would have had words.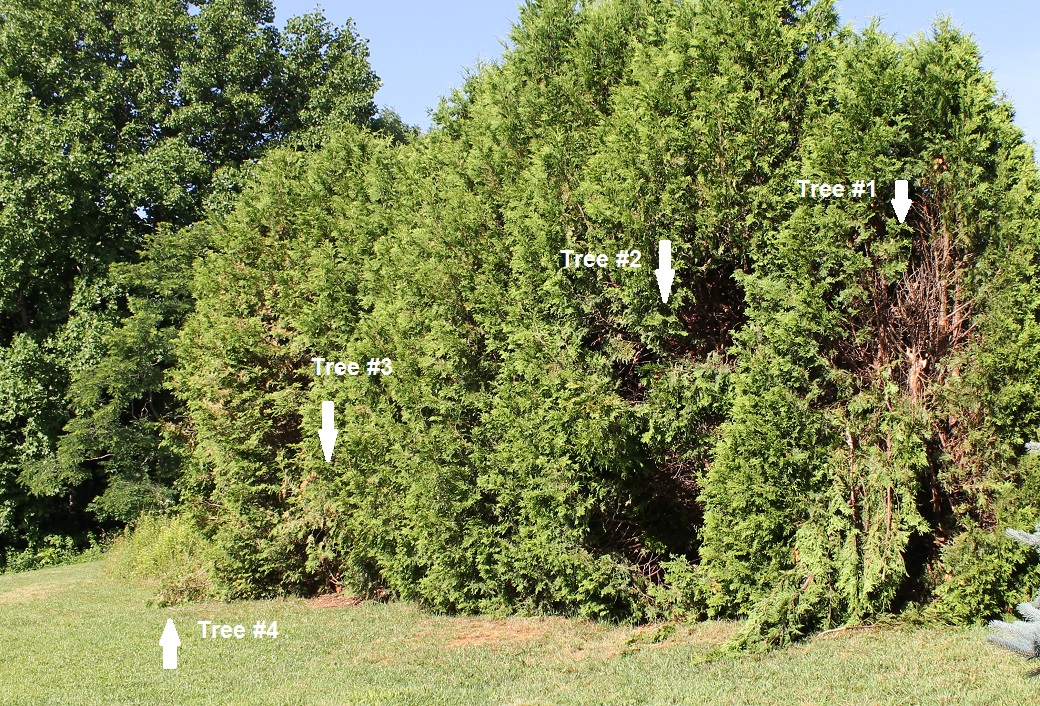 Teddy left four trees with new damage this round.
Clearly, there is something in the trees in our side yard that bear wants. This is his third trip (see here for his prior escapades) back to the same place over the course of a month and each time he does more damage. We are assuming there is one tasty smelling bee hive in there somewhere, as he bothers nothing else on our property.
Before we bought our place here, we knew there had been occasional bear visits. As the former owner informed us, as well as websites like the Virginia Game and Inland Fisheries, black bears are after the food and somewhat co-exist with the mountain people if certain rules are observed. Robert Frost would approve, "good fences make good neighbors." In other words, lines should be drawn.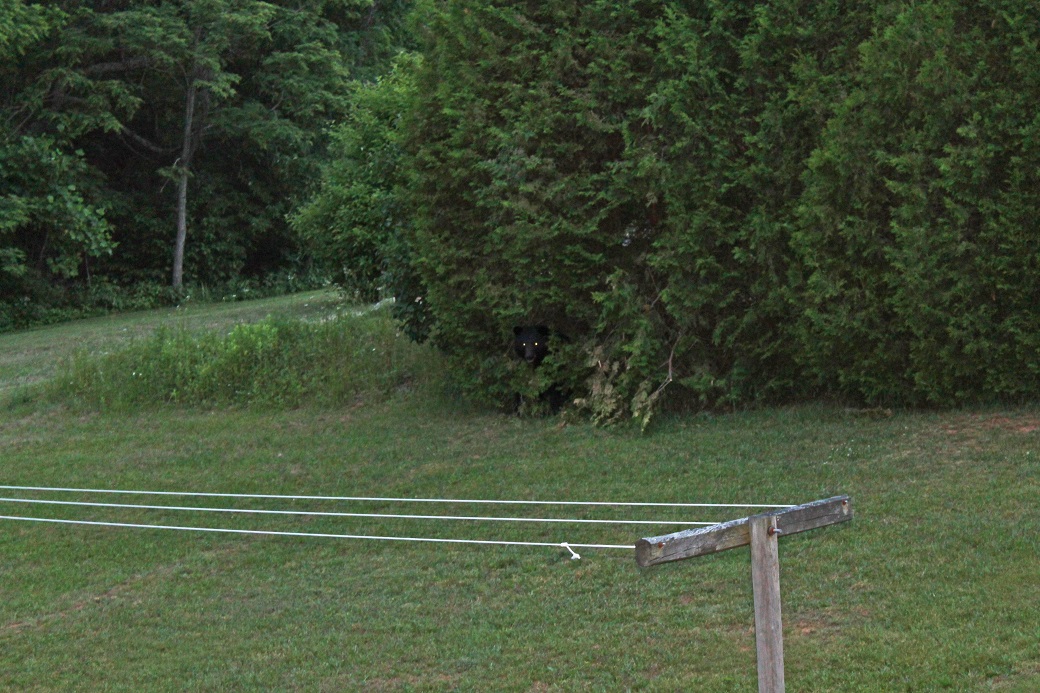 Teddy hiding in the same Cypress trees May 28, 2015.
The few distant neighbors we have express varying views on the bears. One neighbor is scared of the bears and insists everyone should keep dogs to scare the bears away. Another takes quiet walks early in the morning and has crossed paths closely with the bear. She meditates and the bear continues on his way. Some locals have informed us that firing a round from a gun into the air or ground will permanently scare them away.
To my knowledge there are two bears in the immediate (rather large) area. One is our Teddy who is moshing in our cypress trees. At about 300 to 350 pounds, we know he is not the really BIG bear that people are describing at better than 500 pounds. Even our teen drove by the larger bear on her way home one day and says he is just enormous.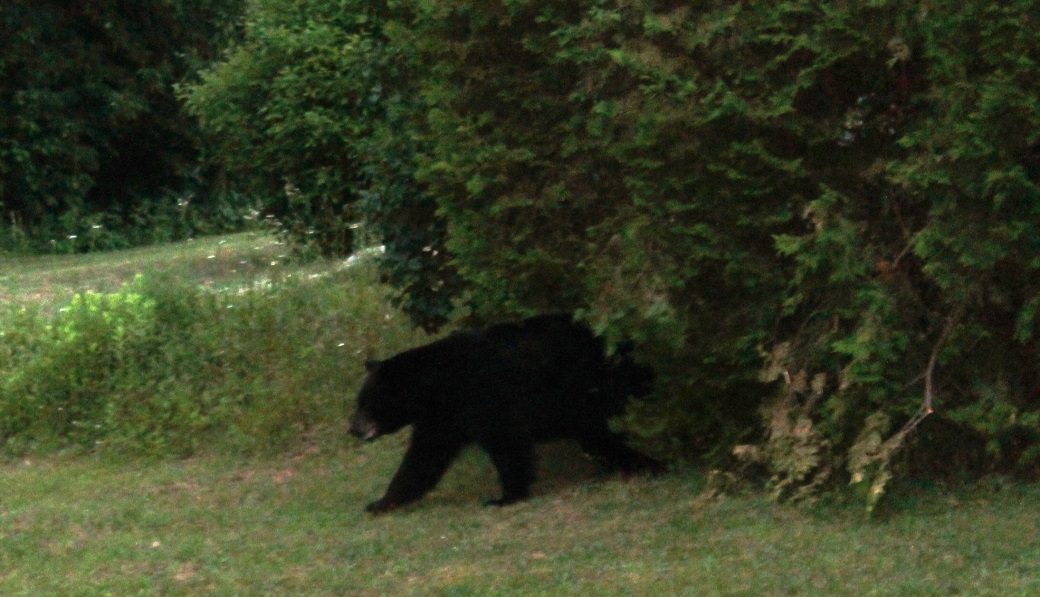 I'm not afraid of the bears. I will definitely use the buddy system and go armed when gathering berries this year. The wild blackberries grow on our property as well as all the empty neighboring ones, almost everywhere open land meets the forest. The allure to assume one is safe because we can stand in a wide open field or our lawn and not actually enter the woods to pick berries is a trick. I fully expect the race is on to see whether Teddy can beat me to each berry patch as they ripen over the next month.
The North American Bear Center says one black bear will eat 30,000 berries per day on a good year. Sorry Teddy, but that's a lot of jam! You've got some competition here. I estimate one day of Teddy's berries could keep us in jam, jelly and berry syrup for more than two years.
Stay tuned for updates in the ongoing bear saga at Chez Cog.
Disclosure: no bear or human was harmed in the creation of this story.