Chinese Consumerism
Where Gold is Money
By
Mr. & Mrs. Casey Stengel
In 2012 Mrs. Stengel and I retired from our jobs and, being debt free, began looking for an adventure. We pondered about where in the world we would like to go, and after no small measure of deliberation settled on China. We jumped through many hurdles to secure a teaching position at a university and soon began our adventure. Each day reveals something new to us about this culture and its people. China is such a fascinating place that is changing at breakneck speed; so fast in fact it is hard to keep up with the changes. In his book "China Road" Rob Gifford writes "if you're not confused about China you're not paying attention." Amen to that.
Recently I was on a domestic flight within China. The flip down seat back TV screens were showing short documentaries with cultural and educational themes. Imagine my surprise when I saw pictures of Ulysses S. Grant, some gold coins, and the picture of another man who I learned soon enough was Jay Gould. The folks on this flight were being educated about gold coins, gold as money, agricultural commodities, and farmers being paid in paper notes instead of gold coins. By the end of the clip, passengers were made aware that there are powerful people in the world who will exert influence over government leaders so the rich and powerful can profit from manipulation.
Any farmer on the flight learned to never trust a banker who wants to 'help' them and they were all made aware of the fact that Gould bought a bank through which he could run this scam. The video ended with Grant realizing that Gould had played him like a fiddle and the only thing missing was a picture of Gould rotting in prison. Oh wait…rather than go to jail he went on to own a railroad after the Gold swindle. I wonder why the powers that be over here want their citizens to know the history of gold manipulation.
In the land of the free and the home of the brave, Bernanke says that Gold and Gold Coins are not money. In the most populated communist country on earth, the masses are being educated about how Gold is good money and how rich and powerful people will manipulate it. Truth is stranger than fiction. You cannot make this stuff up.
One of the best parts about teaching in China is the friendships I have with colleagues at the university. They want to talk about the United States, but surprisingly are not very interested in hearing what I think is wrong about the direction the US is headed. Such talk would shatter their dream that there is a place where people are free. Many of them would jump at the chance to visit America, and some of them would want to stay there. Others would enjoy the visit and then head back home. They are solidly middle class and they like it.
I have been talking to an economics professor about fiat currency, gold, real estate, and economic trends in China. (I surmised that he's well connected because some of the things he said I read about on Zero Hedge six months later). He told me that China will slowly transition to a consumer based economy. As I try to wrap my mind around this economy and the middle class I've observed three things.
First, the economy here is solidly capitalist, and by comparison the US is socialist. I'm not kidding about this. People are free to start businesses and make all the money they can. I am sure there is order to it all in the typical Chinese kind of way, but it can look like a capitalist free-for-all sometimes. Regulations are minimal, though from a safety standpoint they could use a few regulations. In fact I have been encouraged to open an English language school here in China. There are expat teachers here making three times their regular salary operating a school on the side. No problem either because it is encouraged.
Second, there is a growing and happy middle class who are not far removed from the nightmare of the Cultural Revolution, so they appreciate their new found wealth. I have been asking the same question to many different people I meet here. "What is considered middle class and are you middle class?" Responses include owning a car, buying a home, and making the equivalent of $1000 to 3000 per month (in our 2nd tier city). For me who grew up in the 60's and early 70's America, it is like watching a rerun on television.
As The Powers That Be steer this country toward a consumer based economy, this middle class will drive the economy. Hundreds of millions of people are middle class, happy, and have no idea they are pawns. The malls here are over the top as far as technology is concerned. There is a 200 foot by 50 foot giant screen on the ceiling of the mall entrance. Shopping is entertainment. (Does this sound familiar? You know where this is headed.) And right on cue, I saw this billboard in Beijing.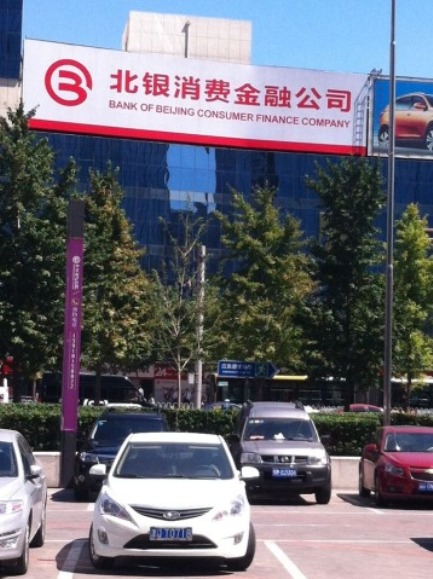 Third, the negative effects of the global economy have begun to show up here. I was talking to an Ag student about his family and home, and after telling me the usual family information he said that the government was against his father's farm. Oh? How so?  His father runs a small pig farm with a total of fifty sows while employing three workers. His farm needs to receive 8 yuan per unit of pig weight to show a profit. About 2 months after the acquisition of Smithfield, the price of pork went to 7 yuan. The government, he said, would not subsidize their domestic pork and was therefore against them. The family was pondering any and all possible options to save their business.
When I saw the student two weeks later I asked what his father had decided to do. The student told me that his father had laid off all three employees and was doing all the work himself. 'Ironic' does not begin to define this scenario. Coming from a small business agricultural background I could understand his dilemma and the financial stress it brings. I thought about asking him how it felt to have a business threatened with closure because of cheaper imported products, but I did not. Even if I asked the question in my most sincere voice, it could be misunderstood as gloating and I did not come here for that. I really didn't need to ask, I could see the answer in his eyes.
I also didn't tell the student that we had a lot in common. Back in the late 90's I was developing a growing honeybee pollination business and was picking up more pollination contracts each year from the apple growers in our area. Those contracts provided a nice supplement to my income. In 1999 I saw my business shrink as growers went out of business. When I questioned a big grower about the future of the orchard industry, he talked about China dumping massive amounts of apples on the juice market and effectively shutting off a needed source of revenue for American producers. I shook my head as I drove home that evening. I could not believe that people in China could really have an effect on such a small time beekeeper in the U.S.  Welcome to the global economy.
I appreciate the work that Cog and Mrs. Cog are doing to provide a venue for those of us who are just figuring out how to articulate what's going on, and how we navigate this brave new world.
04-25-2014
Mr. & Mrs. Casey Stengel